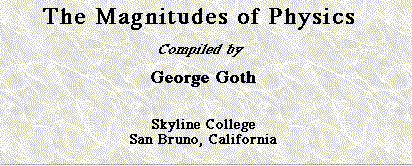 The Magnitudes of Physics

Compiled by George Goth, Skyline College, San Bruno, CA. Table conversion to HTML by John C. Lahr, Alaska Seismic Studies.

http://smccd.net/accounts/goth/MainPages/magphys.htm

This compilation is a table of various magnitudes of different numbers, from the diameter of human hair to the mass of the Milky Way. An updated version of The Magnitudes of Physics was included as in insert in the December, 1996, issue of The Physics Teacher, a publication of the American Association of Physics Teachers.