Cutnell & Johnson PHYSICS 6/e

Chapter Four: Forces and Newton's Laws of Motion
---
---
Exploring Gravity

Tutorial written by Mariusz Kovler, School of Physical Sciences, Curtin University, Perth, Australia.

http://www.curtin.edu.au/curtin/
dept/phys-sci/gravity/index2.htm

This tutorial covers a range of topics, including Newton's Law of Gravitation, rotational and satellite motion, Kepler's Laws, gravitational potential energy, and modern physics application of gravitation (Black Holes and gravitational waves.
---
---
Inclined Planes and Frictional Forces

Virtual Laboratory, University of Oregon, Eugene, OR.

http://zebu.uoregon.edu/nsf/friction.html

A simulation measuring and describing friction between a block and an inclined plane from the Virtual Lab.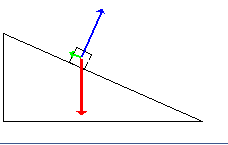 ---
---
Forces, Inertia and Accelerations...

Cockpit Physics at the US Air Force Academy, Colorado Springs, CO.

http://www.usafa.af.mil/dfp/
cockpit-phys/cp_home.htm

The USAFA's Cockpit Physics curriculum teaches introductory physics via airforce and military applications. This is a very complex site which contains investigatory activities, theoretical descriptions and quicktime movies related to learning about forces, Newton's Laws, free fall, and gravitation.
---
---
Comments, corrections and suggestions to Dan MacIsaac
CJ 6/e Chapter Index