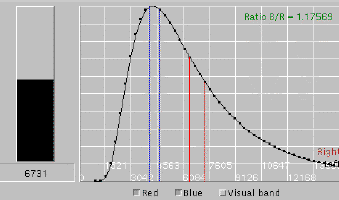 Blackbody Radiation

The Virtual Laboratory (G. Bothun), University of Oregon, Eugene, OR.

http://zebu.uoregon.edu/nsf/planck.html

Select a temperature between 3000 and 10,000 degrees, and see the Planck spectrum for that temperature plotted. Stars have a radiation pattern which is governed largely by this formula. The user can perform photometry on that curve by selecting either a blue, green, or red filter.